The Boutique at Palisades Village
Private appointments, curbside pickup & delivery available upon request
Jen Palisades Village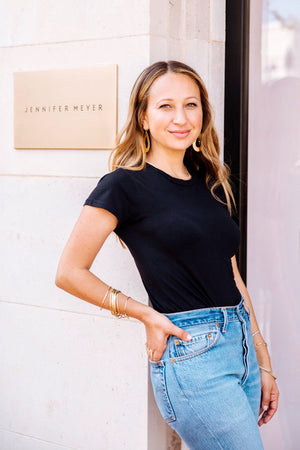 Why did you choose the Village for your first boutique?
Opening a store in LA was always a dream of mine, but I wasn't ever quite sure where that would be. When I first heard about the beautiful plans for Palisades Village, I knew immediately that it would be the perfect home for the first Jennifer Meyer boutique! And I was so right!
What's your favorite part about the store?
I truly love everything about the store and the Village. PV has such a wonderful neighborhood vibe, and it's always so green and lush. The JM boutique is a beautiful little pink jewel box with huge windows that cast gorgeous light on all of the sparkly jewelry. Being there just makes me so happy! It's also so fun to meet customers and learn the stories behind their special jewelry.
What's your ideal day at the Village?
I find myself at the Village often, there's really nowhere else like it. I can grab a coffee or lunch with a friend, sit in the sun, pick up groceries at Erewhon, and even browse in some of my favorite stores. My kids also love to meet their friends for ice cream or to hang in the park. It's one of our favorite places to spend an afternoon.
Best kept secret about the Village?
Have you ever had the burger at Hanks? It's unreal! The patio at the Draycottt is also extra special, but I don't think that's a secret ;)